Alas!


This delightful Burger King has been stripped of its decorations and

will soon be torn down

to make room for a "more typical" Burger King. Thanks to Jim Vincent who alerted me to the change (Winter, 2005). I'm sure you'll all join with me in saying

"Bummer!"




---
So:


As we were returning from Carolingia's "Party at Herot" event in March 2001, we decided to search for the best of Burger Kings. I had happened upon it by accident some months previously, and the four of us were in the mood for a Quest. Our party was four: Sir Mord the Green, Baroness Mairi ni Raghaillaigh, His Lordship Francois Thibault, and myself, Baroness Cynthia du Pré Argent.

Sir Mord found in his archives the Beowulf fragment at the top of this page, Baronesses Cynthia and Mairi took photos illuminations, and His Lordship Francois danced attendence and paid for the fodder for the horses that got us there (bought at the stables of the Exxon brothers.)

Long did we search! Fully half an hour, and finally found it. South of Hartford, take exit 17 from Route 91 in Connecticut; go west less than a mile, and on the left side of the road (East Main Street) you will see the Burger King. But it isn't this one anymore (see above.)


The Burger King, had hangings from the Bayeux Tapestry and the Tres Riches Heures, showing people eating, or harvesting, burgers, fries, and sodas. In addition, it had "stone" arches and a second-floor castle balcony. Alas that none will be able to see these again, but at least, here are some pictures.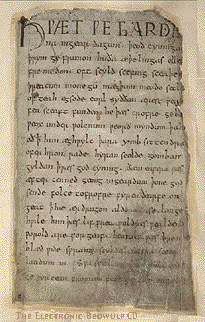 I encourage you to write to the Burger King Corporation and tell them that you will miss the pictures, and the unusual and wonderful quality of this restaurant.

NOTE: I have no affiliation with Burger King! Do not write to me about Burger King problems! I get a few emails per year from people thinking this. They'll let anyone have a computer these days....

The image of the Beowulf manuscript was gratefully stolen from the guide pages of The Electronic Beowulf CD, which looks like a really keen thing for Old English fanatics.