Silver Jewelry for Non-Jewelers
by Baroness Cynthia du Pré Argent
© 2000 Cynthia Virtue

I posted info on this to the Rialto and a couple of mailing lists; now I have my pieces back. Here they are; I hope interested folks will investigate this nifty stuff in their region of the country.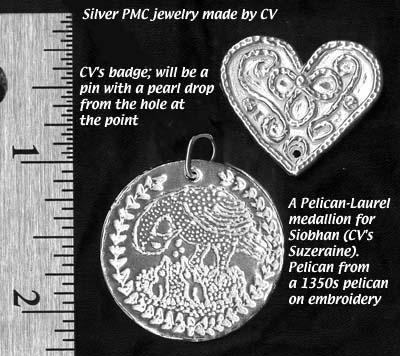 About Precious Metal Clay (PMC)
Precious Metal Clay is micro fine silver (or gold or platinum) that's mixed with an organic claylike matrix which fires away. You manipulate it just like pottery clay, except on a smaller scale, and can make jewelry. It's a bit pricey, but the pendants I made work out to about $35/piece, which isn't too bad for getting just what you want, if you have some small skill. They do shrink in the firing process; between 30% - 40%. An interesting thing is that the PMC turns out as 99.9% silver instead of 92.5% sterling silver, so items made with it will be brighter than sterling, and tarnish less. (The copper in sterling is what contributes significantly to tarnishing.)
Some of the paint-your own ceramics places are carrying it as another thing to do at their studios, sometimes you can get craft classes in it, and apparently some of the jewelry catalogs are carrying it (such as Rio Grande, although I haven't done a search there myself.) I presume the jewelry catalogs carry the right sort of kiln for firing it, as well. The prices would be much lower than through the studio, I expect.
How These Were Made
The heart was made with standard hand-building techniques -- a slab of clay, cut into a heart, with tiny "snakes" to make the seablatt (one type of stylized heraldic leaf; see the background pattern) cutout and the curliques. I plan to turn it into a pin and wear it on my stuffed-roll hats.
The medallion was made by cutting a slab of clay in a circle, and then drawing the pattern into the clay with a tool. After they were dry, the studio fired them and polished them. The areas that are deeper (inside the little holes created by the tool) appear white; they are just unpolished areas of the silver, which is mirror-bright on the surface due to the polish.
The basic slab was made by rolling the clay out like cookie dough, but between two stacks of five common playing cards to keep the depth even. After firing, the medallion was about 1 mm thick at the edge, and 33mm in diameter.
The pelican design ("Detail of an orphrey embroidery on the Pienza Cope, England, second quarter of the 14th C.") was from the illustrations of medieval pelicans by Donna Hrynkiw (SCA: Elizabeth Braidwood). I liked it because many of the allegorical pelicans vulning themselves seem very aggressive and hawklike; this one was more kindly-seeming as it fed her children. It is for the lady who holds my fealty, who was looking for something different than the usual type of "Pel-Laurel" medallion. I hope she likes it!