I've taken this page down (mostly) until I have something interesting to contribute, other than this charming picture of my cats. If you wish to reach me, drop me a line via my sister's mailer on the Virtue Ventures main page

News: 2003: I've bought a house!

These thumbnails link to large versions.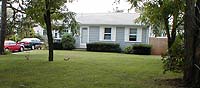 View of the house from the front yard




View of the house from the back yard

View of the back yard from the slider doors