The heart-shaped hat project from 1999
by Cynthia du Pré Argent
© 2000 Cynthia Virtue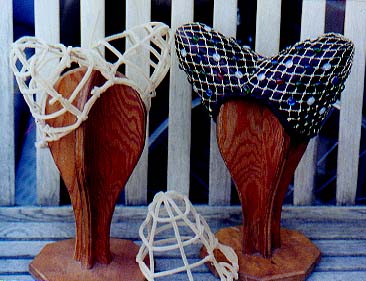 This is a quick run-down of my methods as I developed and constructed this hat. This page will get more polished later.
The first thing I did was to assemble as many pictures as I could which had large, stiff, upstanding type women's hats, organize them chronologically, make notes on each, and then make some general overview conclusions. This page details those notes and conclusions. It will take a very long time to load, but should be interesting.
Next was the actual construction, which progressed much like construction for the first reticulated headdress that I did; first a template out of pipecleaners, then the real construction out of thin coathanger wire, thin brass wire, fabric, padding, covering, and decoration. The whole process took over 40 hours of work, which I kept track of, as well as a guess of the minimum cost of the work, if someone were paying me (ha!)


The multi-colored glass jewels at the intersections of the network were purchased from Mistress Alisounde de Bregeuf and from Aelfwine & Arastorm's stores at the Pennsic War. They are cabochons that are set in sewable brass mountings; the prongs of the mountings fold down over the cab to keep it in. They look much more like real stones than the acrylic sew-down sort, or like rhinestone settings.
Here's a closeup view of part of the front of the hat.

My favorite type of cab set is shown with the round blue stones; the cabs come in oval sizes as well.

My second favorite are shown here with the milky, green, red, and darker blue glass stones.

I tend to prefer cabs without foil backs, because I think they'll last longer without getting seedy. However, foil backing is a period technique.

Finally, no hat of mine is complete without a silly nickname. It's not something I started, but was "gifted" to me by allegedly well-meaning friends. In this hat's case, the name makes a small amount of sense when you see this cartoon.