Dame Cynthia's Elevation
by Cynthia du Pré Argent
© 2001 Cynthia Virtue
This is a quick page with the best of the photographs -- so far -- from my elevation, which took place September 1, 2001 (AS 36) at Bergental's Investiture.

As Dame Siobhan wrote:

My friends --

I know many of you know this already, but I am overjoyed to tell that Cynthia du Pre Argent, late of the West and now living in the East, received her well-deserved elevation to the Laurel this past weekend. Their Majesties, Oliva Graeme and Hanse von Drachenklaue, were kind enough to let us know so that we could be there.

The event was the Baronial Investiture of the Barony of Bergental, in Western Massachusetts. This was excellently convenient for her friends in Carolingia (Boston), and a small horde of Westerners overran the place, as well. Those of us who were there included Sir John Theophilus, Lord Aaron of Buckminster, Lady Elspeth Penryner, Lord Raphael, Mistress Crystal of the Westermark, Duncan Jullings, and myself.

Cynthia's lord, Francois, made seals to hang on the bottom of the scroll from many, many of her friends across the Known Worlde. It was most splendid. Mistress Wander made an heraldic cloak for Cynthia, as well.

As was most appropriate, an Eastern Laurel, Master John, made a most splendid, silly, and unusual hat for Mistress' Cynthia's elevation,which must have stood 10 inches high, with a silk couched laurel wreath upon it. Many pictures were made, and so I suspect some will be appearing on Cynthia's website shortly (http://www.virtue.to).

in Service, I remain,
siobhan medhbh (now bereft of apprentices, alas!)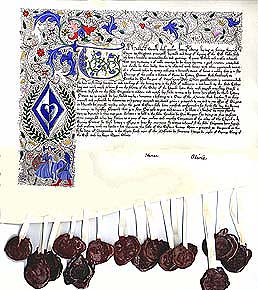 In addition, many of my friends from Carolingia attended and set up my vigil tent and provided snacks; principally, Mistress Katryn, Lord Jehan, Lord Luke, Lady Pamelina, Baron Tibor, Master Toshi. The scroll was made by Mistress Dorren of Ashwell. Mistress Crystal gave me her laurel medallion, which she was given at her laureling by a large number of Crosstonians. The artist is in AnTir and has an enticing website.
Duke Vissevald Selkirksson spoke as Pelican, Countess Mara Kolarova as Lady of the Rose, Master John Theophilous as Knight; Mistress Katryn read Justin du Coeur's letter to the crown as Laurel.
There is a related page about the green houppelande and its construction and documentation. It has lots of pictures on it, so it will load slowly. There will also be a page about the hat, and the scroll, which was worded from a period document of ennoblement.
Cynthia is called and sent to vigil
Duncan holds the cloak as we prepare to go in to the hall
HL Francois and Cynthia before the ceremony
Aaron leads the procession into court with my banner
Cynthia kneels before the Crown
Dame Siobhan takes back the green baldric - (same as header picture)
Cynthia in the new cloak made by Mistress Wander Riordan, in court
The King holds the new Laurel-hat aloft; the maker, Master John McGuire, looks on
Dame Cynthia and Lord Aaron
Dame Cynthia and her sister Karen
Dame Cynthia and Dame Siobhan -- LARGE file
Dame Cynthia gooses Dame Siobhan
Karen, Cynthia, and HL Francois