A Virtuous Home Page
---
I'm Cynthia Virtue, of the Maine-based Virtue family, not the California-based Virtues.
Shakespeare had a lot to say about us
. Sorta.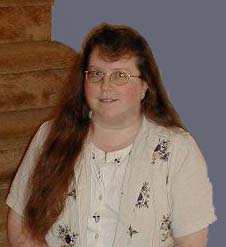 You might know me if you were also an Air Force brat, or spent time in Maine, Nebraska, Massachussetts, Pennsylvania, or Silicon Valley. You might know me if you're in the SCA, read the Historic Costume List, or some other email lists. You might know me if you know my sweetiepie. I'm currently living outside of Boston.
The top web page lists the articles available on the web authored by me, including the "Fabric for Bachelors" course, and a bunch of writing on medieval clothing and accessories.
Interests:
At present, I'm nearly heads-down in motherhood -- twins, born in January of 2002. The book "Mothering Twins" remarks that there is a big difference between imagining having No Free Time and actually experiencing it; this I have found to be true.

I've started to think about bringing in some money, though; my CafePress store has several interesting items folks might like, which give me a dollar or two per item. I have another product in the development phase, and some other inventions still on the back burner. It would be neat to claim my occupation as "Inventor" although I think I'd need to have wild wavy hair to do the image justice.

Medieval Revival:

The Society for Creative Anachronism was started as a lark in the 1960s. It is dedicated to recreating the interesting parts of the European Middle Ages.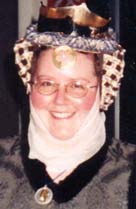 "The Society" has been my major hobby since 1983. Anyone can join; there are no religious, ethnic or age restrictions. The Introduction to the SCA can describe it better than I can.
I do a fair amount of costuming, but my main interest is the very silly High-Middle Ages hats. For teaching, research, and general service to the SCA, I've been awarded Arms twice, recieved the West Kingdom Order of the Rose Leaf (arts) the Mists Principality Corolla Nebularum (arts), a Court Baroness title (service & misc.) the East Kingdom Order of the Maunche (arts), and the Society-wide accolade of the Laurel. (You can think of this as an Arts Knighthood) I've held several useful-busybody offices for several years..
The SCA noblewoman that I am liegewoman to is Dame Siobhan Medhbh O'Roarke. She's a published author in the realm of Internet information, consulting, etc, as well as in Medieval cookery.