Welcome to Virtue's Sea Cottages!
These three cottages, available for rental as single units or all together, are directly on the shore of Frenchman Bay, Maine.
In the mornings, you can watch loons and lobstermen from the porches as morning fog dissipates; in the evening, the sun turns the sky brilliant colors while the tide changes. You can be as active and "touristy" as you like, or just sit and enjoy this quiet corner of Maine.
The cottages:
Are in Hancock, Maine, on Frenchman Bay;
Are run by a native Mainer;
Have their own beach;
Are ideal for enjoying gentle days of a Maine coastal summer;
Are a great place to use as a "base camp" for exploring the area (see listing below).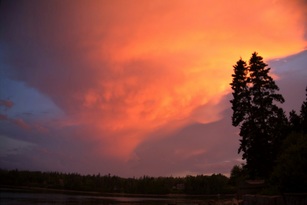 A week's rental at the Cottages is great for a couple's romantic, rustic getaway; for families that would like some time together without the noisy distractions of the city; for singles interested in walking in the woods and on the rocky beach; for anyone who likes nature and the ocean.
In addition to the natural attractions near the Cottages, car trips can easily be made to Acadia National Park, Schoodic Point, Bar Harbor, and other towns along the coast. There are historic houses and forts within daytrip distance.
The musically inclined can attend the Sunday and Wednesday concerts at the Pierre Monteux Memorial Conductor's School. People who like to eat will be enchanted by several excellent restaurants nearby, as well as traditional Maine lobster-cooking shacks.
Boat rentals, fishing excursion companies, and golf courses are located in nearby towns. Some of our guests have made arrangements for rental kayaks to be delivered to their cottage for use while they are here.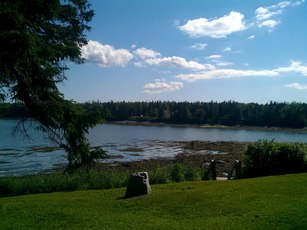 Each cottage is suitable for up to five people:
A bedroom with a double bed
A bedroom with a twin bunkbed for two kids
A daybed/couch in the living room
Shower, refrigerator, microwave, oven and range
Even the kitchen has a view over the ocean
Wood stove for chilly mornings
Each building is fully furnished, but you must bring your own linens (sheets, towels, etc).
Our season runs from June 15 - September 15; most folks reserve in March for the coming summer.
Saturday-to-Saturday rates are $1125 per week, tax included, for the summer of 2022.
Reduced rates are available for those renting a month or more, and for rentals after the third week of August. We request one half of the total rental charge when a definite reservation is made, and the remainder on or before arrival. Cancellations must be made one month prior to the reserved date if the deposit is to be refunded. The cottages usually are rented from Saturday to Saturday, but the day is flexible if there is no conflict with other reservations.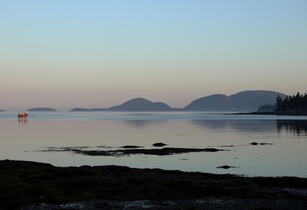 There are no phones or Internet access installed at the cottages; however, we seem to have line of sight to the cell towers in Bar Harbor, which gives us decent coverage on the carriers we've tried. Most carriers have worse coverage, or none, in many nearby areas; you may not be able to rely on smartphone services which require data. For example, if you are accustomed to using Google Maps to navigate, it may be wise to have it download maps of the area before leaving home.
Please feel free to send email if you have any questions. You can also find us on Facebook.
Sincerely,
Cynthia and Karen Virtue
Send email to request more information
Transition
Dee Virtue has been the owner-operator-planner for the Sea Cottages for fifty years, but she has now decided to hand over all cottage management responsibilities to her daughters Cynthia and Karen, effective January 1st, 2022. You can reach them at cottages@thibault.org.
View from Mount Cadillac
This panoramic photo was taken near the top of Mount Cadillac. Frenchman Bay, with the cottages, lies off in the distance, to the left of the largest island.